Exhaust Manifold - Big Block Chevy V8, Sold as a Pair (#901160/420-901180-GB)
Part #: 901160/420-901180-GB
For shipping estimate:
Add to cart then visit your shopping cart to see shipping options and costs.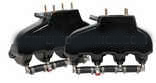 These are dual-wall cast aluminum exhaust manifolds. These manifolds are for Big Block Chevy applications and are the same exhaust manifolds as used by Mercury High Performance on certain applications. These are sold as a pair and intended to go with engines coupled with a Bravo sterndrive such that the water enters at the bottom and middle of the manifolds. These exhaust manifolds allow center to center engine dimensions of 32-5/16" and are 1-5/8" taller than Mercury cast iron manifolds mounted on stock short decks with GM Heads. These manifolds come complete with riser studs and water hose fittings. Product Diagram.... How to Measure....
Installation Instructions (Opens in a separate window)
NOTE: The exhaust manifold gaskets are supplied with this kit, but no riser gaskets are included. The riser gaskets must be ordered separately.
---