EMERGENCY REPAIR EPOXY PUTTY STICK (#74-87104)
Part #: 74-87104
For shipping estimate:
Add to cart then visit your shopping cart to see shipping options and costs.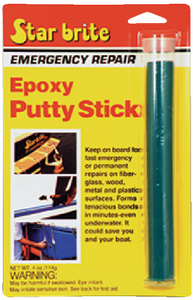 EMERGENCY REPAIR EPOXY PUTTY STICK
For making permanent and emergency repairs on fiberglass, wood, metal and plastic. Easy to use. Just hand-knead until color turns White and apply. Forms tenacious bonds in minutes, even underwater. Can be sanded, painted, drilled, tapped and filed.
---