BIO-KLEEN PRODUCTS INC. BIO-KLEEN BILGE CLEANER 5 GAL (M00415) (#246-M00415)
Part #: 246-M00415
For shipping estimate:
Add to cart then visit your shopping cart to see shipping options and costs.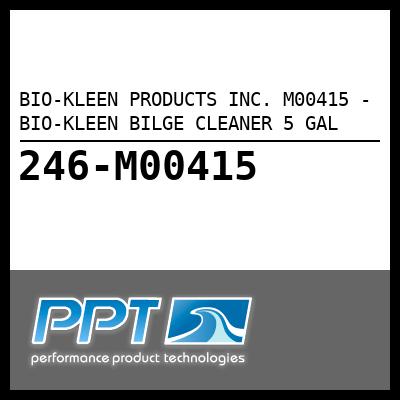 BIO-KLEEN BILGE CLEANER 5 GAL
BIO-KLEEN BILGE CLEANER 5 GAL
Degreases and dissolves any sludge, grease or soils in your bilge. A neutral pH, multi-purpose, emulsion cleaner/degreaser that is safe, non-toxic and biodegradable. A special appeal is it's non-corrosiveness to most metals, so it can be used on just about everything. Cleans bilges, machinery, parts, equipment, and is great for engine degreasing. Safe and economical for use in marinas, factories, and garages.
Size

5 Gal.
---