BIO-KLEEN PRODUCTS INC. AMAZING ARMOUR 5 GALLON (M00215) (#246-M00215)
Part #: 246-M00215
For shipping estimate:
Add to cart then visit your shopping cart to see shipping options and costs.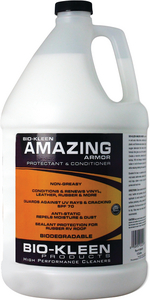 AMAZING ARMOUR 5 GALLON
AMAZING ARMOUR 5 GALLON
Conditions and Renews Vinyl, Leather & More. A non-greasy formula that protects and beautifies vinyl, leather, rubber, plastic and wood.Guards against ozone, ultraviolet rays and oxygen destruction that cracks and hardens these materials. Applications to rubber RV roof will reduce chalking that causes white streaks. Forms an anti-static, micro-thin layer of protection that deters water, airborne pollutants, stains, dust and dirt; prolonging the time in between cleaning and making it easier to clean the next time. Excellent for water crafts, RVs, automotive & household items. Use on: vinyl/leather seats, tires, bumper guards, trim, dash boards, vinyl tops, vinyl furniture, luggage, shoes, golf bags, purses and much more.
Size

5 Gal.
---