A P PRODUCTS BAUER DOOR LATCH W/KEYS-BLACK (013-520) (#112-013520)
Part #: 112-013520
For shipping estimate:
Add to cart then visit your shopping cart to see shipping options and costs.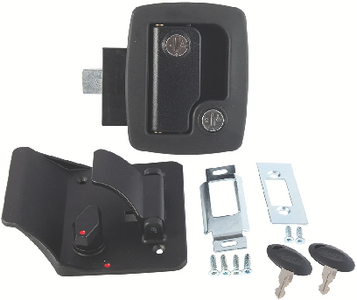 BAUER DOOR LATCH W/KEYS-BLACK
BAUER DOOR LATCH W/KEYS-BLACK
Direct replacement for standard RV entry door locks. Fits 2.75" x 3.75" cutout. Feature's Bauer's SCI technology to prevent tampering with lock cylinders. Low-profile inside egress prevents interference with screen door. Corrosion resistant lock cylinders based on ASTM B117-09 1000-hour Salt Fog Test. Lightweight, UV-resistant, with double-sided key. Uniquie key jacket to distinguish from other keys. Key logo on paddle indicates when paddle is locked and aligned with lock cylinder key slot.
---